STNA Classes in Columbus Ohio
The State Tested Nursing Assistant program uses a 75-hour curriculum approved by the Ohio Department of Health. At our Columbus Ohio branch we offer five different sections. Pick the one that works best for your schedule.
State Tested Nurse Aide Sections:
Our Nurse Aide Training Competency and Evaluation Program NATCEP consists of coursework relating to the following healthcare topics: nurse aide roles, communication, interpersonal skills, basic nursing skills, mental health, social services, legal issues, safety & security, signs and symptoms of disease, aging, death and dying, hygiene, grooming, and mobility. In addition to classroom-based training, laboratory training, you will have a "hands on" clinical experience. Upon successful completion of our class, all students will be qualified to take and pass the Ohio State Tested Nurse Aide state examination.
The STNA program is offered multiple times throughout the year. Please go to STNA Program Schedule for the next available start dates. The Ohio Department of Health requires that students complete a minimum of 59 classroom and lab hours plus 16 clinical hours for a total of 75 hours. To ensure that all students meet these requirements, we carefully monitor the time that each student participates in class. If any class time is missed due to an emergency, arrangements must be made to make up the hours at the instructor's discretion. If hours missed are not due to a verifiable emergency or too many hours are missed then the student will be asked to leave the class and restart with the next session.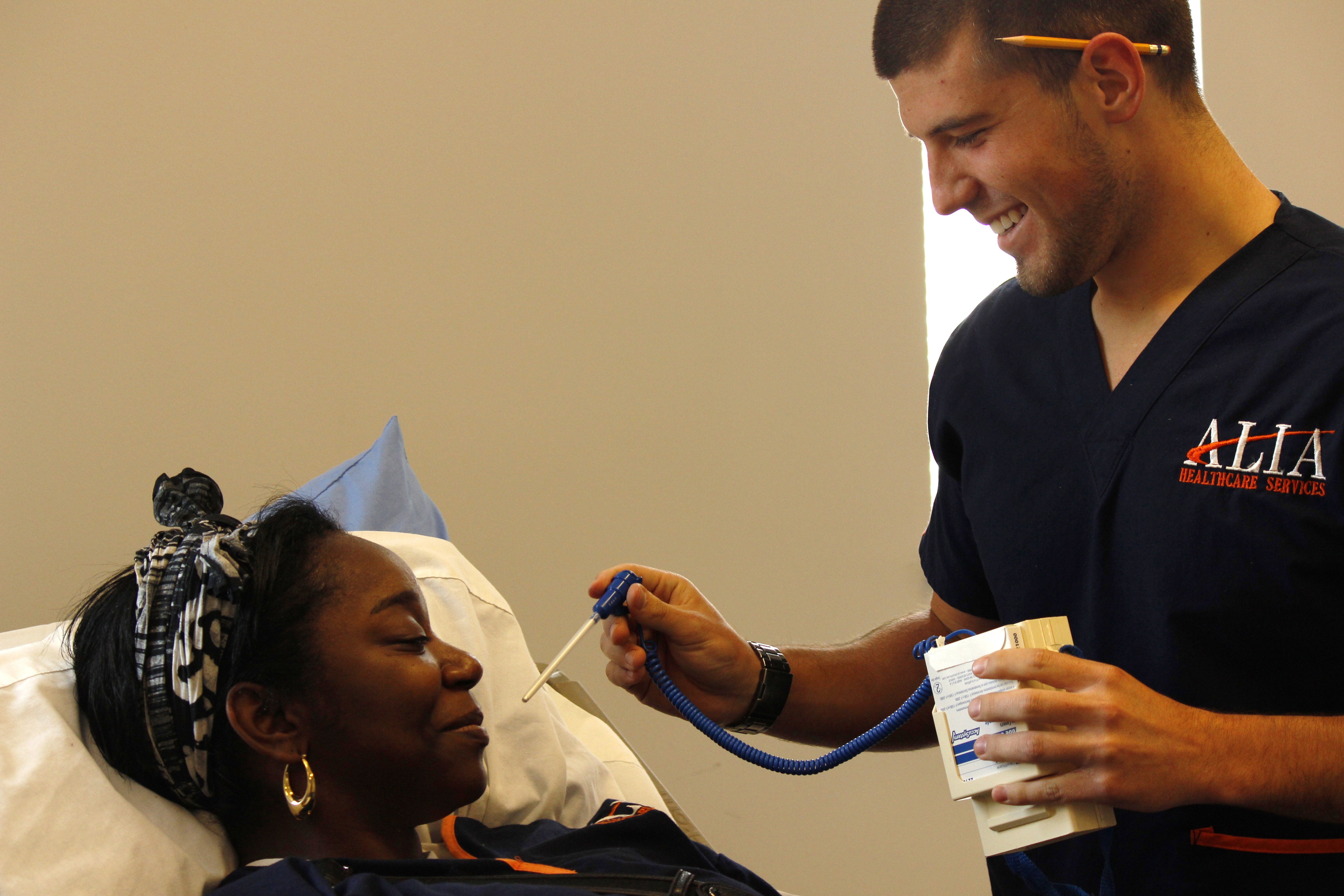 CNA Payment Information
Each student must pay a $125.00 deposit at the time of enrollment which acts as a first payment and is applied towards the total balance. All fees paid are non-refundable and non-transferable and are applied toward the cost of the program. The remaining balance is due prior to the first class unless other arrangements are made (please see Fee Payment Agreement for details prior to submitting your application). If payment arrangements are made, please remember that your fees will be due on the agreed upon date. It is important that all fees be paid in full five days prior to the last day of class. Otherwise, the clinical session may have to be postponed.
Alia Healthcare Services accepts credit cards, checks and money orders. Deposits and other payments may be mailed or delivered in person to:
Alia Healthcare Services, 2800 Corporate Exchange, Suite 410 Columbus, OH 43231
About Alia Healthcare STNA
Here at Alia Healthcare Services, our name reflects our noble desire to inspire others to a higher cause.
Founded in 2001, Alia Healthcare began as a nurse and nursing aide staffing service to meet the growing need for quality supplemental medical staffing in medical facilities throughout Central Ohio. As the healthcare markets expanded and the need for qualified personnel grew, Alia's purpose grew along with it to include the educational component of training students to become State Tested Nurse Aides (STNA). *
In 2008, Alia Healthcare became licensed under the Ohio Department of Health (ODH), under the division of its Nurse Aide Training and Competency Evaluation Program (NATCEP) unit, to train and license STNAs. We were soon approved by the Ohio Board of Nursing to also offer the Certified Medication Aide course (MA-C). Alia's was the first training program in Columbus, Ohio to be approved to offer this additional certified course. We have since seen thousands of students successfully pass through our doors and complete these courses.
Alia Healthcare is proud to not only offer quality training to its students, but also to serve as a regionally accredited STNA testing site in Ohio for the STNA and Medication Aide state tests. Statistics have shown that students increase their chances of passing the STNA exam by 20% when taking the exam in a familiar environment, so Alia offers our students the added security of taking the exam right here at our school. Since we are also a medical staffing agency, we offer our students free direct job placement after successful completion of their STNA state board examination.
The staff at Alia is passionate about the community it serves and is committed to providing its students with the real-world skills needed to make a measurable difference in the healthcare field. If you are looking for STNA training in Ohio, call us today to schedule a free no obligation tour. We have campuses near you in Columbus, Cincinnati, or Newark.
* STNA also referred to as Certified Nurse Aide (CNA), Licensed Nurse Aide (LNA), or Geriatric Nurse Aide (GNA) in states other than Ohio.