STNA & CNA Classes in Cincinnati Ohio
The STNA program is an Ohio Department of Health approved 75-hour curriculum. Cincinnati offers day, evening and weekend class schedules. The day class is our full-time program, while the evening and weekend classes meet part-time. Please select the schedule that works best for you.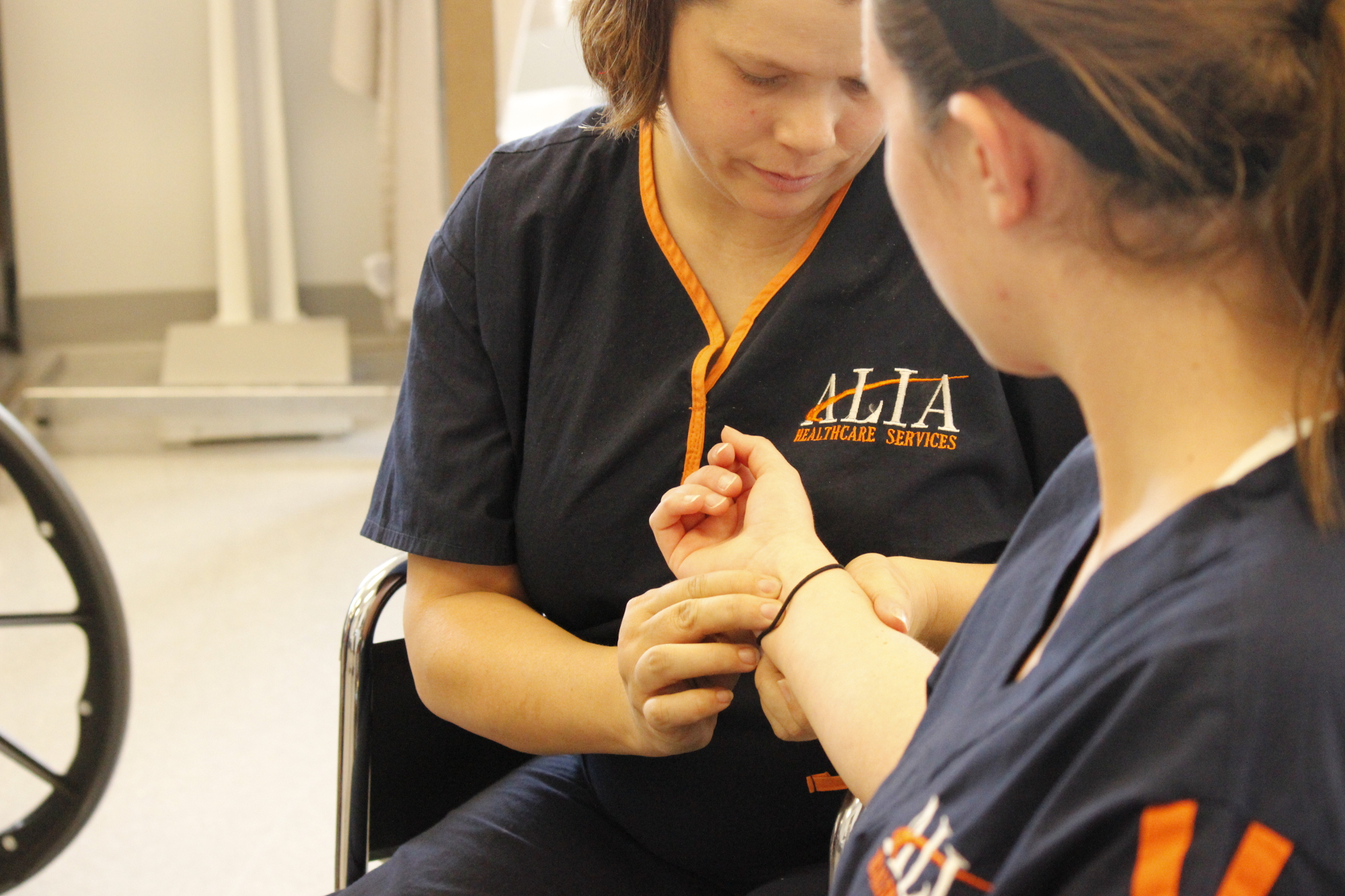 State Tested Nurse Aide Sections:
CNA Course Information
Our Nurse Aide Training and Competency Evaluation Program (NATCEP) covers the following healthcare topics: nurse aide roles, communication, interpersonal skills, basic nursing skills, mental health, social services, legal issues, safety and security, signs and symptoms of disease, aging, death and dying, hygiene, grooming, and mobility. In addition to classroom-based lecture and laboratory training, you will engage in "hands on" clinical training. Upon successfully completing our class, all students will be qualified to take and pass the Ohio State Tested Nurse Aide (STNA) exam. The Alia Healthcare Services STNA program is offered multiple times throughout the year. Please see the STNA Program Schedule for the next available start dates. The Ohio Department of Health requires that students complete a minimum of 75 hours of STNA training, consisting of 59 hours of classroom and lab training, plus 16 hours of clinical training. To ensure that all our students meet the clock hour requirements, we carefully monitor the time that each student participates in class. If any class time is missed due to an emergency, arrangements must be made to make up the hours at the instructor's discretion. Student hours missed that are not attributable to a verifiable emergency may result in the student being dropped from the class, with the requirement that the student resume or restart the class in an upcoming session.
CNA Payment Information
Each student must pay a $125.00 deposit upon application, which is applied to the total balance due for the class. Applicants must also pay $35 for books and $25 for a uniform. So, the total amount due upon application to the STNA program is $160. All fees paid are non-refundable and non-transferable and are applied to the total cost of the program. The remaining balance is due prior to the first class unless a partial payment agreement is selected (Please see Fee Payment Agreement for details prior to submitting your application). If a payment plan arrangement is selected, please remember that your fees are due on the agreed upon dates. It is important that all fees be paid, in full, five days prior to the last day of class, or your clinical days will have to be postponed. For more information see Tuition and Fees.
Alia Healthcare Services accepts credit cards, debit cards and money orders, but does not accept cash. Deposits and other payments may be delivered to:
Alia Healthcare Services, 110 Boggs Ln, Suite 301. Cincinnati, OH, 45246