STNA Classes in Newark Ohio
Nestled in the beautiful city of Newark in Central Ohio, Alia Healthcare Services of Newark introduces its newest remote STNA classroom site in the Newark Medical Center Professional Office Park located at 843 North 21st Street. This highly visible location has convenient access from both 21st Street and Moull Street. We share our building with a diverse mix of businesses including doctors, dentists, chiropractors, law firms and investment companies. Located less than four miles from downtown Newark, Alia Healthcare Services of Newark is easily accessible to Interstate 16 and is located within five miles of The Ohio State University (OSU) at Newark, Central Ohio Technical College (COTC) at Newark, Career and Technology Education Center (C-TEC) of Licking County, and Newark Catholic High School. Give us the opportunity to show you what Alia Healthcare has to offer by calling our office today.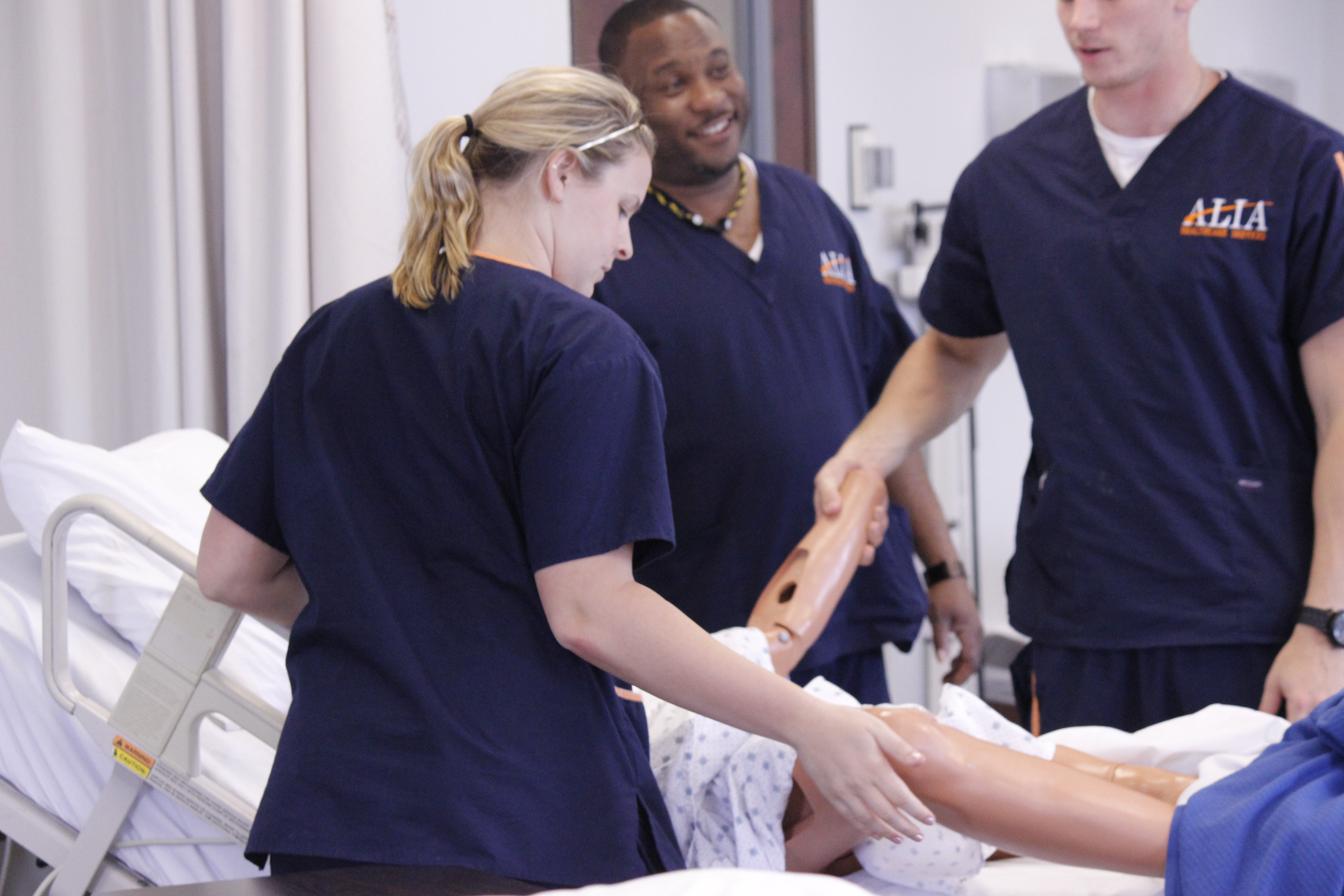 Why Alia
Alia Healthcare of Newark is a Nurse Aide Training and Competency Evaluation Program (NATCEP) approved by the Ohio Nurse Aide Registry, a division of the Ohio Department of Health (ODH). We offer a 79 clock-hour STNA Class that meets the pre-nursing requirements of most if not all major state and city programs offering pre-licensure nursing education programs in the state of Ohio. This includes OSU, Columbus State Community College (CSCC), COTC, as well as the Licensed Practical Nurse (LPN) program of Columbus Public Schools, Adult Community Education (ACE). Our STNA classes in Newark allow even the busiest of students to find an STNA class that suites their schedule. With FIVE unique sessions ranging from a two-week full-time day class, a part time morning class, a part-time afternoon class, an evening class, and a Saturday-Sunday weekend class, we have an STNA class that will fit your schedule.
CNA Training Information
Welcome! Thank you for your interest in taking STNA classes at Alia Healthcare Services of Newark Ohio. We recommend you come take a tour of our school prior to registering for STNA classes at our Newark location. Alia Healthcare at Newark is one of the few if not the only STNA School in Newark that has a full-time, accelerated two-week STNA Day Class as well as a Weekend STNA Program in addition to more traditional part-time evening and part-time day classes. We have had and continue to enroll many OSU, CSCC, COTC, and C-TEC pre-nursing students who successfully complete our STNA class and go on to Licensed Practical Nurse (LPN) or Registered Nurse (RN) programs throughout Ohio. We are an Ohio Department of Health (ODH) approved program with campuses in Columbus, Newark, and Cincinnati.
No specific course prerequisites are required for the STNA class. Only two forms of Identification are required—typically a Driver License and a Social Security card. Also, a one-step PPD/Mantoux/Tb (Tuberculosis) skin test is due by the first Friday of the STNA class. If you have already completed a Tb skin test within the past 12 months, then simply submit a copy of the results to our office. If not, then you may go to your family doctor, Kroger, CVS, Walgreens, or Walmart with a walk-in clinic. The price for the Tb skin test is approximately twenty dollars. No specific form is required for the Tb skin test; whatever form the facility uses will suffice. We also offer a separate four-hour Healthcare Provider CPR/First Aid/AED class through the National Safety Council (NSC) for those seeking certification.
At Alia Healthcare, we are a regionally approved STNA State Testing site for the State of Ohio which means you may choose to take your STNA State Examination at Alia Healthcare Services. If so, you should expect to pay a testing fee of $125 directly to the testing company, D&S Diversified Technologies, upon successful completion of your STNA course. This is a two-part test: Written (79 multiple-choice questions) and Skills Demonstration (5 out of a possible 25 skills). You must pass BOTH parts of the STNA State Examination with a minimum score of 80% within three attempts within a 24-month period of completion of your STNA course at Alia Healthcare. STNA Class calendars and schedules are posted above for each individual STNA Class session through the end of the current academic school year.
Please call our office Toll Free at 1-800-490-ALIA (2542) for more details on registration and scheduling. Please feel free to stop by our Main Office any time Monday through Friday. Appointments are not necessary. Our Office Hours are Monday-Wednesday-Friday from 8:00am to 6:00pm and Tuesday-Thursday from 8:00am to 5:00pm. If you have any questions, please do not hesitate to contact us to speak directly to an Enrollment Advisor. Thank you for taking the time to consider registering for your next STNA classes in Newark Ohio at Alia Healthcare Services.
STNA Payment Information
In terms of tuition and fees, a $125 deposit is due upon registration which is also applied towards your total balance. A payment arrangement on the remaining balance may be set up in installments. Uniform, textbook, and workbook are required for the STNA course. Upon arriving for a tour, many prospective STNA students choose to get fitted for their uniform and pick up their textbook and workbook as well. At that time you may elect to either pay in full or set up a payment plan that works for you. For the convenience of students, we offer white shoes in sizes ranging from six to 11 in half-size increments. Wrist watches with a seconds (third) hand are available in assorted colors. We encourage students to bring a spiral notebook or 3-ring binder for note taking and a folder for class handouts. If payment arrangements are made, please remember that your fees will be due on the agreed upon date. It is important that all fees be paid in full five days prior to the last day of class. Otherwise, the clinical session may have to be postponed.
Alia Healthcare Services accepts credit cards, checks and money orders. Deposits and other payments may be mailed or delivered in person to:
Alia Healthcare Services, 843 N 21st Street, Suite 202, Newark, OH 43055